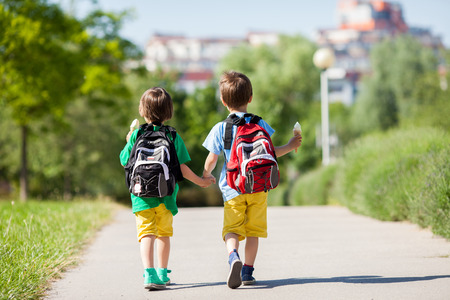 We have four children between our two families and they all went to The Little Gym. Not long after they started, we saw big changes that really impacted our two families… and we want to tell you one of our personal stories.


Our four children are all different. The biggest contrast is between our sons. My son is incredibly shy, and Andi's son naturally brims with confidence. One of the things we noticed immediately was how quickly the The Little Gym got to know, and celebrate, our boys as individuals.


Andi's son ran into class by himself and didn't look back. And the teachers understood him straight away. They nurtured his wonderful confidence, channelled his energy, and developed his listening skills, focus and concentration. The teachers gave him challenges and adventures he thrived on, and he just blossomed in the classes.


My little boy blossomed in a different way. Naturally shy, he found it impossible to go into his first class by himself at three years old. He hid behind my skirt, and held onto me with a vice-like grip. He did this at any activity I took him to – we just couldn't find a place where he would settle.


The difference at The Little Gym was the teachers. They immediately understood and genuinely cared about our situation. I was welcomed into the class -- the 5-foot-8 Mummy sitting with all the four-year olds – and neither my son nor I felt exposed or singled out. We just felt supported, like the teachers and I were a team helping my son to grow and develop.


For six weeks, the teachers worked with my son and I to build his confidence and courage to go into the class by himself. They developed a system of hand signals that he could use to get reassurance from me – our 'thumbs up' system – and I was gradually able to leave the room.


It was amazing. Suddenly, my impossibly shy little boy developed the confidence to go into an activity by himself! And he carried that confidence from The Little Gym into the rest of his life – now, he would happily go into a couple of other activities too – as long as we used The Little Gym 'thumbs up'!!


Being embraced for who we were, and truly feeling like we were valued and important – was an incredible feeling. The teacher's understanding of his needs, and our needs, during that transition in his development was incredible and they earned our love for it.


Thanks to their patience and support, I now had a happy little boy that couldn't wait to go back every week, and who had the courage to try other news things as well. A whole new world opened for him.

The Little Gym Windsor Difference
Andi and I decided that we wanted to make this difference to parents and children too, nurturing families in our own The Little Gym.


In our gym, we want every child at every age to feel loved and valued, boosting their self-esteem and confidence individually. We want to build their bodies, their brains, and their social and emotional skills, helping to build a foundation of skills that will last a life time.


And we want them to have FUN – that's when they learn best! Throwing on an imaginary cape and feeling their feet fly as they master their first forward roll, cartwheel, somersault or flip. We want them to float on a happy, confident cloud every single time they leave the gym, taking that imaginary cloak of confidence with them to day care, school, home, the park… everywhere!

Check out the schedule here!

Thanks for letting us share one of our stories. We can't wait to welcome your family to The Little Gym Windsor, and we hope to see your child's eyes sparkling with fun and confidence in our gym this November!